INTERNATIONAL COLLEGE OF DENTISTS (ICD)
The International College of Dentists is the Preeminent Global Dental Honor Society recognizing outstanding professional achievement and meritorious service while advocating for Humanitarian and Educational Initiatives. The college was incorporated in Washington DC on July 9th, 1920. At present, we have 14 sections all over the world and they include the USA, Canada, Inter America (Mexico), South America, Europe, India, Japan, Australia, Philippines, Middle East, Korea, Taipei Section, China & Myanmar.
The India and Sri Lanka section which is section VI came into being on 1 st January 1964 on the initiation of the Padma Bhushan awardee, the late Dr. R. Ahmed as an autonomous section. The college was termed as India Section of the International College of Dentists with a Head Office in New Delhi. Nepal was added to this section in 2005. Our section has 5 zones to carry out its activities. The International College of Dentists India, Sri Lanka, and Nepal section has about 900 Masters and fellows.
The college awards fellowship to Dentists who have brought honor to the profession through devoted service, high ethical behavior, and have made significant contributions by way of participation in social causes. ICD inducts fellows every year through a very stringent process where the candidates after putting in their applications are screened by a committee and later approved by the Board of Regents for Induction into the college. The induction takes place at a formal Convocation every Year.
Author and motivational speaker Brian Tracy wrote:-
Successful people are always looking for opportunities to help others. Unsuccessful people are always asking, 'What's in it for me'?
---
THE MEANING OF ICD FELLOWSHIP: Global Citizenship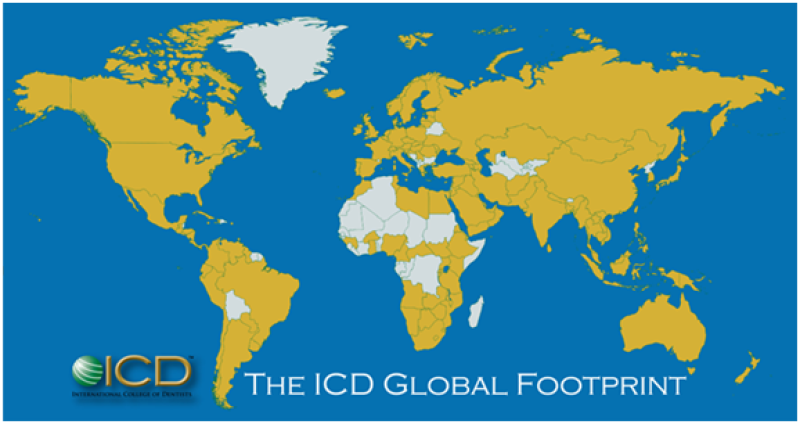 There are many reasons why the International College of Dentists remains a vital part of our profession's efforts in promoting global citizenship, and why ICD Fellowship is making a huge difference in the dental profession worldwide.
The ICD is first an honor society, which recognizes a dentist's outstanding achievements in leadership, education, research, and humanitarian service. ICD Fellows are invited by other ICD Fellows, and this is a singular honor in a dentist's career. Occasionally, during the new Fellow process, a promising candidate will ask his sponsoring Fellow "What do I get for the induction fee that you are asking me to pay to be honored? Why do I have to pay to be honored?" It's a fair question and not an easy one to answer. The truth is that the induction fee almost covers the costs of the Keys and plaques, the convocation, and all the events surrounding it, but not quite. One could reply that over 12,000 other dentists around the world found it to be worthwhile, or that you get a very nice certificate, a Fellow pin and a Key, a very high-end ceremony and. Some wonderful events celebrate you as one of the top one percent of the world's dentists. But aside from the honor and the tangibles, Fellowship in the ICD is not about what you get, it's about what you give. It's also about what you can become.
The Greek philosopher Aristotle said that "well begun is half done." Accepting the singular honor of ICD Fellowship is a wonderful start to something bigger, but it is only half done if you do not embrace what really makes it significant: the opportunity to become a truly international person and a global citizen in dentistry.
Global citizenship is the idea that your identity transcends geography or political borders and that your responsibilities or rights are derived from membership in a broader class: "humanity". This does not mean that you must denounce or waive your own nationality or your regional identities, but that those identities are secondary to your place in the global community. It is the understanding that everything that we do affects everything else. It is the recognition of the existence of the many cultures around the globe, the great and sometimes ancient civilizations and religions, and the incredibly diverse array of traditions.
One only must look at the five Core Values of the College to see examples of the ways by which the ICD is a rare and inspirational beacon of global citizenship in dentistry:
• Leadership: In 2021, the College was granted Special Consultative Status with the United Nations.
Economic and Social Council (ECOSOC). This designation not only provides access to ECOSOC, but also to its many subsidiary bodies as well as special events organized by the President of the General Assembly. Under Consultative Status, the College may provide expert analysis to the ECOSOC on issues directly related to its experience in oral health, identify arising issues and challenges, help monitor and implement international agreements, help raise public awareness of relevant issues, while playing a major role in advancing United Nations goals and objectives when they are aligned with College goals and objectives. ECOSOC Consultative Status is a recognition of the preeminent position and worldwide reputation of the ICD in advancing global oral health for underserved and vulnerable populations.
• Recognition: For the last century, the ICD has been honoring the world's leading dentists, recognizing the outstanding professionals in dentistry that have passed a rigorous peer-review process that is necessary for each Fellow to receive this honor. Each Fellow has had his or her Candidate Information Form reviewed and voted upon by a panel of Officers and Regents. Fewer than one percent of the world's dentists have earned the title of Fellow of the International College of Dentists.
• Humanitarianism: The College and its Fellows create, support, promote, provide, and develop hundreds of humanitarian dental projects around the world, and they do it on a budget that is perhaps 1/3-1/4 the budget of the dental practices of many Fellows. That is because although the ICD is not rich in the financial sense, it has a worldwide wealth of talent, intellect, and dedication that few other dental organizations can claim. The ICD creates, supports, promotes, and administers projects in over 80 countries around the world.
Education: ICD Online was launched in 2020 to fulfill the original intent of the College's founders, which was to disseminate dental information between the countries of the world. The digital platform offers valuable educational content to ICD Fellows and supporters. The early ICD Online programs focused on providing resources to help dentists and others navigate the pandemic and return to practice safely. More recent productions have tapped the deep pool of ICD Fellow experts while providing an international forum discussing antimicrobial resistance and proper prescribing practices. ICD Online also hosts the Bettie R. McKaig Women in Leadership series, dedicated to promoting female ICD leaders while highlighting their experiences, challenges, opportunities, and contributions. ICD Online is now a provider of accredited continuing education through the U.S. Academy of General Dentistry's PACE Program. Find all ICD Online programs and content here: https://icd.org/media-center/
• International Professional Relations: The ICD provides a universal international forum for the cultivation of cordial relations within the profession and assists in preserving the highest perception of the profession worldwide. There are countless examples of cooperation between ICD Fellows, international organizations, and corporations in the dental industry, all trying to advance the mission of the College and oral health care globally.
In many ways, Fellowship is what you make of it. The ICD is not going to steer you to new places and projects and give meaning to your life. You need to do that for yourself, but the International College of Dentists is a wonderful place to find those things.
Being an Active Fellow of the ICD is a great way to make an impact on your community and more
importantly, the world. Please consider joining our group of over 12,000 leading dentists from 125 countries as global citizens in service to the greater good.
---
Activities of the College
Student Plaque Awards for all recognized Dental Institutions
ICD Merit Awards, ICD Donor's Awards in different subjects of Dental Sciences, and 1st & 2nd Prizes for ICD Essay Competition open to all Dental Surgeons of India.
ICD organizes Scientific Sessions, Continuing Education Programmes, and Dental Camps for public and School Dental checkups.
Conducts Zonal activities in different parts of the country for the fellows and Dental Surgeons, to interact with specialists in different fields of the Dental Profession.
Journal of International College of Dentists (JICD), a Bi-Annual Publication of the ICD is a well-accepted and sought Journal for Dental colleges Researchers all
over India and has also been recognized and rated high by the Dental Council of India.
ICD in recent years has initiated Community Health Projects to bring quality Dentistry to the rural and underprivileged Indian population